AMC The Grove 14
AMC at The Grove is a premier destination for moviegoers in Los Angeles, offering a luxurious cinema experience. This state-of-the-art theater boasts comfortable seating, immersive sound systems, and crystal-clear screens, ensuring a captivating movie-watching experience. With a wide selection of films, including blockbusters and independent releases, AMC at The Grove caters to diverse tastes and provides a stylish and sophisticated environment to enjoy the latest movies. The theater also offers premium amenities like reserved seating, gourmet concessions, and the option to join the AMC Stubs loyalty program, enhancing the overall movie experience. Whether catching a film alone or with friends, AMC at The Grove promises a memorable and enjoyable cinematic outing.
Head to the big screen for an unforgettable moviegoing experience at AMC The Grove 14. Enjoy perfect sound and perfect picture across 14 screens. Be sure to grab a bag (or two) of AMC Perfectly Popcorn™!
"We Make Movies Better."
Directory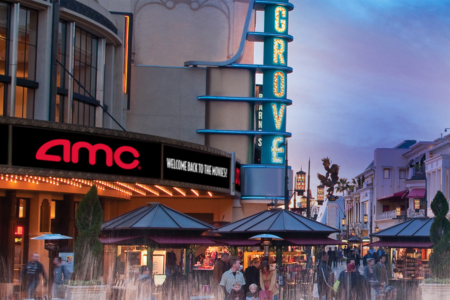 You May Also Like
A premier membership to the world of Caruso. Enhanced events, early access and exclusive rewards await you.
With its fashion-forward collection of stores and ever-changing pop-up shops, The Grove delivers a dynamic shopping experience unlike any other in Los Angeles.