Summer Travel Essential: Raden's High-Tech, Low-Fuss Luggage Makes Getting There Half the Fun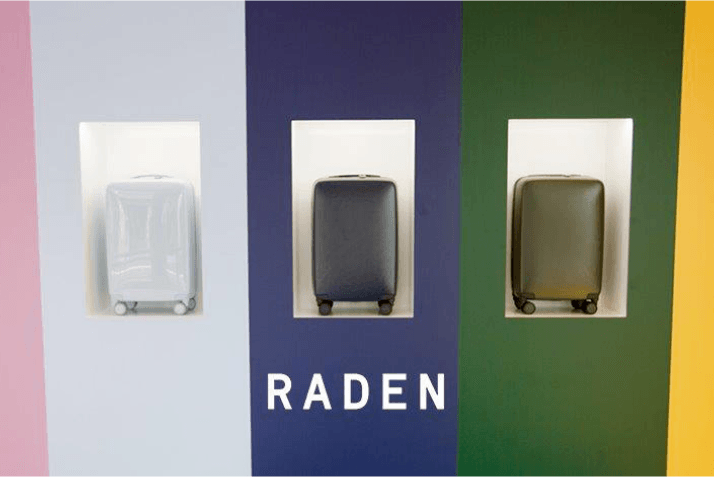 Whether you're off to the beach, lake, mountains or countryside this summer, one thing's for sure: pure and utter relaxation awaits at your final destination.
Unfortunately, with long lines, outrageous fees and chaotic baggage claims standing between you and your paradise, getting there can sometimes feel like the opposite of a vacation, regardless of how long the trek may be.
Enter Raden, a smart luggage company that fuses best-in-class materials with cutting-edge technology to create sleek, sophisticated baggage that actually makes getting there half the fun.Now open at The Grove through June 28, Raden is making "the case for better travel," thanks to interactive technology that saves travelers time, money and headaches. With genius features such as a built-in charger, integrated scale and location awareness, it's no wonder A-list fans like Gigi Hadid, Oprah and Jessica Alba won't venture too far from home without one.
Before ramping up for our summer voyages, we met up with Thomas Isen, Director of Communications and Development at Raden, to learn more about the future of luggage and how it's transforming travel as we know it today.
What's the number-one feature customers love most?
Number one is the customer service built within the app. Raden gives people a new way to communicate with their luggage company that's never been done before. From the moment you pair your bag with the app, you have an immediate connection to us, and we'll be able to answer any questions you may have 24 hours a day, whether it be about the tech or general care of the product.
Why is the scale feature such a lifesaver?
Americans in 2015 paid $3.5 billion in baggage overweight fees, so we're really trying to help travelers avoid that fee with our scale feature that lets you weigh your luggage before you get to the airport. It also eliminates that embarrassing moment when you have to open your bag and unpack all your stuff (underwear and all!) in front of complete strangers.
…And the location-awareness and charging features?
The location feature is also amazing because it allows travelers who check a bag to see if their luggage actually made it onto the plane with them, so we're either giving people piece of mind or a heart attack depending on whether their luggage is on the plane. You also can track your bag at baggage claim and see when it's coming before you physically see it, so you know exactly when to call your Uber.
As for the charging, everyone's experienced that moment at the airport when they desperately need to charge their phones and are huddling around a shared outlet. We allow people to avoid that by simply plugging into their suitcase. Just charge the suitcase overnight, and you'll have enough charge to get you through an entire journey.
What's the most popular piece on the market right now?
The light pink A22 size. We were one of "Oprah's Favorite Things" last holiday season, which led us to having a waitlist of over 10,000 people. The black is also incredibly popular for both sexes.
What's the perfect piece for a short weekend getaway?
Our A22 carry-on is the perfect piece. At 8.4 pounds, it's the lightest smart luggage on the market. We call it the three-night bag. It has all of our top features, including the phone charge, location awareness and scale so you can see how much it weighs and avoid those pesky overweight fees.
…And for international or longer journeys?
For longer trips we have our A28 check-in bag, which has all the same features as our A22 carry-on, but it's much larger, making it great for ten nights or more.
Tell us about your colors.
Raden luggage comes in a variety of colors. We call it the Raden Rainbow. Raden brought a range of new colors to luggage that nobody was doing before, like light pink and lavender.
Speaking of rainbow colors, we love your wall! How else are you celebrating Pride this month?
Knowing we were opening our pop-up at The Grove in June, we wanted to honor Pride by partnering with the wonderful organization Outfest, which promotes LGBT inclusion on screen. So, while we're here, The Grove and Raden will be donating 20% of all proceeds to Outfest, which we're very excited about.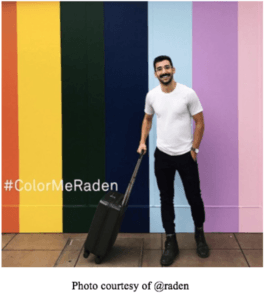 Looking to upgrade to first-class luggage? Swing by the Raden pop-up, located near the fountain through June 28, and be sure to snap a selfie against the rainbow wall #ColorMeRaden.
For more Pride fun, visit us on June 25 for an evening of live music and film, presented by The Original Farmers Market and The Grove. The celebration will feature a Donna Summer Experience by Raniere Martin with the Boogie Down Band at The Farmers Market Plaza, followed by a sunset screening of The Adventures of Priscilla, Queen of the Desert, located on Gilmore Lane at 8:30 pm.