Nordstrom at The Grove Debuts SPACE, Featuring Over 30 Fashion, Accessory and Beauty Brands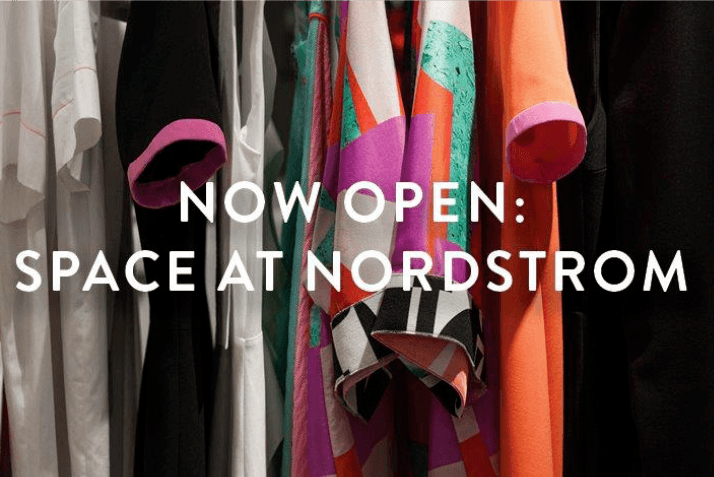 Nordstrom continues to redefine the look and feel of a traditional department store by collaborating with cutting-edge and under-the-radar brands, bringing an even more dynamic and modern shopping experience to customers.
Launching galaxy s8 today at The Grove, SPACE is a boutique for emerging and advanced designers, all curated by the department store's Vice President of Special Projects, Olivia Kim.
A creative mastermind in the fashion/retail industry, Kim worked with the Nordstrom design team to create a framework that feels open and airy. Pops of color distinguish the shop from the rest of the retail floor (think pink mannequins, mixed materials and eclectic objets d'art). SPACE at Nordstrom at The Grove will also house art and décor from George J. Sowden, Masanori Umeda, Javier Mariscal and Ettore Sottsass.
"We want SPACE to serve as a platform to introduce our customers to the incredible brands that have been established for some time but can be found only in a few places in the world in boutique businesses," says Kim, who selected over 30 brands from the fashion, accessory and fragrance categories to showcase.
"I'm so excited that we will be offering a handful of amazing brands that will be new to the L.A. market," adds Kim, highlighting names such as Colovos, Koché, Paskal, and Sarah & Sebastian as a few of the labels heading our way.
With so much new and exciting product, Kim can't pick just one piece she's ready to start wearing for fall, but a few items definitely come to mind. "There is a leather wrap dress from Colovos that I'm dying for!" she says. "I also love Comme des Garçons, Ellery (which launches its denim collection this season) and Undercover. I can't wait to see how our customers will mix these brands into their own style."
SPACE at Nordstrom at The Grove will feature the following designers:
Ready-to-Wear
ACNE STUDIOS
ANTHONY VACCARELLO
ASHLEY WILLIAMS
COLOVOS
ELLERY
ETIENNE DEROEUX
FAUSTINE STEINMETZ
JULIEN DAVID
KOCHÉ
LEA PECKRE
MARQUES'ALMEIDA
MIRA MIKATI
PASKAL
ROKSANDA
SHRIMPS
SIMON MILLER
SOFIE D'HOORE
TU ES MON TRESOR
TOGA
UNDERCOVER
Jewelry
CHARLOTTE CHESNAIS
LARA MELCHIOR
MOCIUN
PIECE A CONVICTION
PIPPA SMALL
WWAKE
Bags
KARA HANDBAGS
CREATURES OF COMFORT
Accessories and Shoes
BROTHER VELLIES
MAISON MICHEL
MARIA LA ROSA
Fragrances and Candles
COMME DES GARÇONS