HOLIDAYS AT THE GROVE
WITH Stephanie Liu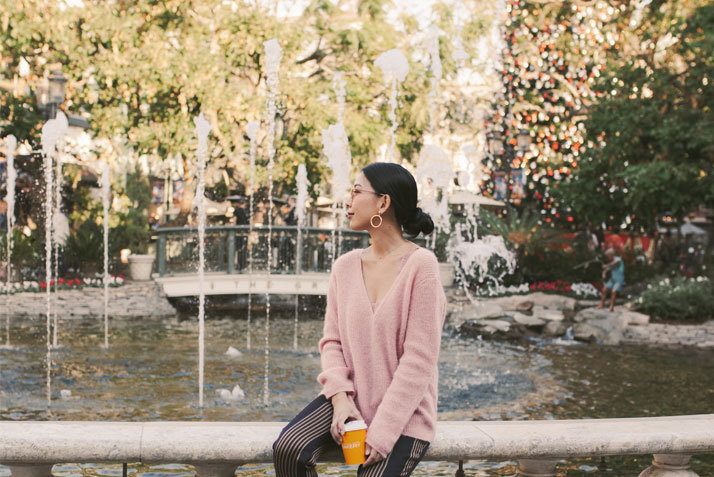 I'm in that friend group where each of us indefinitely shares our location with everyone on our iPhone. Whenever they open Find My Friends, they always find my dot at The Grove. One of my friends thought my location must be a fluke since I'm always shown to be here – but no, The Grove has essentially become my second home.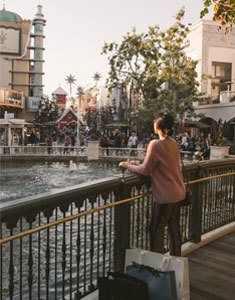 The grand fountain, the opulent holiday decorations, the elevated architecture, and the hospitable vendors all lend to a particular magic that you experience only at The Grove. It's a comfort and a thrill once you step into the property, because you'll go to your usual spots and yet you'll always experience something new, like a holiday pop-up or an impromptu band performance. I always take my car to the valet where the staff greets you so warmly and it's the only way my car will ever get a proper car wash. For lunch, my new favorite place to eat is The Fountain Bar. I cross my fingers always hoping the second table next to the fountain is available as it gives a perfect view of the water and the beautiful park. Their Moscow Mules and martinis are amazing, but they also have a DIY Gin & Tonic bar I've yet to try. Get their chicken sliders and deviled eggs, so delicious and filling for a busy afternoon ahead.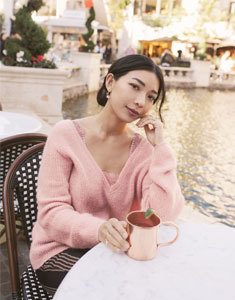 After lunch, I beeline to my favorite stores, starting with Le Labo and Paige, then down the boulevard to Elizabeth and James and past Santa's House to Barneys New York. Last week, I found a great denim jacket with a fur collar at Paige (perfect for my holiday trip to the East Coast) a beautiful red satin dress that I'll probably wear for New Year's Eve at Elizabeth and James, and I picked up a new, super chic fragrance from Barneys New York. I surprisingly got all of my shopping done before my appointment at the Santa House to meet Santa, but I would never be late and make the jolly red man wait. It was my first time seeing Santa since I was four years old and without a doubt, meeting Santa was the sweetest experience ever! We chatted about our holiday plans, how he'll prepare for the big evening, and of course, what I wanted for Christmas. He also got my husband Kyle to divulge his wishlist, which was nice to learn that it was the same as mine (a rescue puppy!).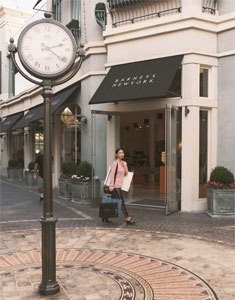 When I have all of my shopping done, I love to quietly stroll around The Grove to indulge in the magic of its ambiance. It's calming to sit on the marble rail by the fountain and watch the water dance to its routine. My go-to afternoon snack is the rose macaron pastry at Ladurée with a glass of rosé, but I recently had the chance to try Dominique Ansel's bakery and loved the chocolate cake paired with a deliciously sweet hot chocolate. Grabbing a blanket and laying down on the grassy lawn by the Christmas tree is my favorite thing to do – staring upwards at the red, yellow, and green behemoth against the clear, blue sky is just unbelievable. Can you now see why The Grove is my second home?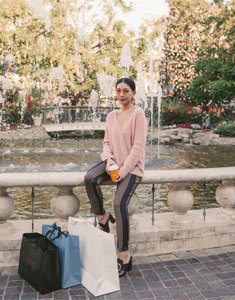 -Stephanie
For all things Stephanie, follow @honeynsilk