Fashion Advice from Melissa Magsaysay: Scarves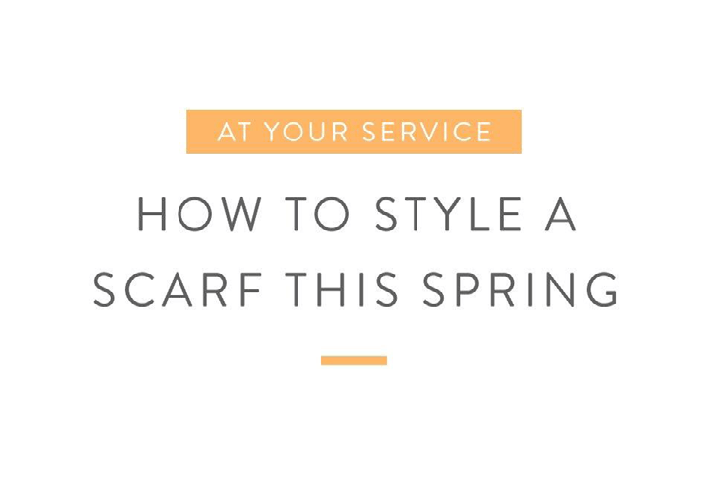 Neck scarves are nothing new to fashion, but after decades of serving both a stylish and practical purpose, the delicate and often colorful accessory is having a bigger moment than ever.
The ubiquity of the scarf has mostly to do with fashion's continuing celebration of the shoulder and neck area – just think about all of the off-the-shoulder blouses and choker necklaces that emphasize the specific region of the body. Plus, the easygoing 1970s vibe of clothing this spring is perfectly punctuated with the polished look of silk neck scarf tied close to the skin.
But prim and proper isn't the only way to wear a neck scarf. The trend ranges from casual and practical to sexy rock and roll. And styles from florals to plaids and even bold geometrics can add a playful accent to any ensemble.
"There are a million ways to style and tie a neck scarf," says celebrity stylist Anita Patrickson on cinema box app. "My favorite way to wear it is to twist a really old-school traditional red bandana and do a lower tie in the front pairing it with a white button up or tee and a blazer or leather jacket."
Consider how many ways we're seeing the neck scarf worn. Saint Laurent did them long and loose last spring, seen as a skinny strip of fabric that could have been confused for a creative take on a necktie. For fall, Tory Burch tied them in a preppy manner to embellish her equestrian-themed collection. Scarves also were peppered all over the Chloe fall runway, seen as a more literal '70s style accessory to pair with the floaty, luxe boho look of the clothes.
When deciding how to wear your neck scarf this cinemabox season, plus when showing mom how to wear the new one you might be getting her for Mother's Day, the process doesn't need to be daunting. The accessory is best pulled off with confidence and also taking into consideration the look and attitude you're trying to pull off.
SWEET AND CHIC
This style works with both long and short rectangular scarves. Shorter scarves can be loosely wrapped around the neck just once and tied slightly to the side. Longer scarves can go around the neck twice for a bit more drama, with tails that hang lower and a knot that's a little looser. It's a subtle but effective accessory and works with anything from a t-shirt and jeans to a structured day dress.
LONG AND LOOSELY TIED
Call it the look that Saint Laurent started. The non-chalantly draped skinny scarf evokes a '70s rocker vibe and looks best with a button-down shirt or any blouse with a V- or wrap-neck as it emphasizes the plunging line.
BANDANA STYLE
Not just for the Wild West, the bandana style tie is also a great way to mix up prints and patterns. Simply take a square scarf and fold it diagonally into a triangle. Tie each end around the back of the neck and let the front cover most of the collarbone area.
*If you are interested in any of these items for purchase, please contact our concierge at 323.900.8080.
All items are subject to availability.