Fashion Advice from Melissa Magsaysay: '70s Style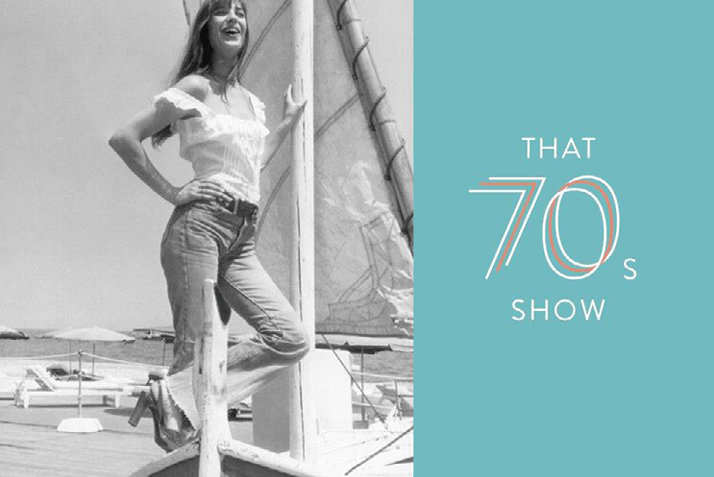 The decade that brought us disco always delivers as a constant style inspiration for designers. This spring, it's feeling fresher than ever.
Fashion is full of tropes that can easily feel tired. Take the 1970s, for example. We've seen it plenty of times in seasons past and, in fact, in Southern California, it could be considered a perennial look.
For spring and summer, designers are still mining the decade, but this time in a manner that's more modern, effortless and laid back than ever before. Consider a Jane-Birkin-on-summer-holiday-in-St-Tropez sort of aesthetic rather than the contrived maxi dress and wedge sandal ensemble.
Now the trend is understated and even minimal, which means sleek off-the-shoulder tops and dresses (and necklines in general), wide leg pants, lace-up leather sandals and a solid, neutral color palette that reflects the most ideal notions of summer: the ocean, the sand and a cool and stylish get-a-way.
"Channeling the ease and femininity that the '70s represents, while looking modern and refined, was the starting point for our off-the-shoulder tunics for spring," says Amy Smilovic, founder and creative director of Tibi, the brand that has arguably propelled the off-the-shoulder trend forward.
Getting the look is as effortless as it appears.
Here are the key items for this updated '70s redux, plus how to wear and where to get them.
Why We Love It: The block or stack heel is all the rage right now – and on top, it's all about the lace-up leather tie. The details are reminiscent of the late '60s/early '70s and provide an instant update to even a t-shirt and high-waist jeans.
How to Wear It: Let the lace-up sandals be the statement accessory. The crisscross detail can get busy, so it's best to keep everything up top sleek and minimal. The sandals tend to look the most summery in a brown suede, but try a bold color for maximum impact.
Why We Love It: Why not celebrate the shoulder? It's a sexy area on just about everyone and feels easy and on point for warmer weather.
How to Wear It: Just like you would any other blouse or top. The neckline on anything from a top to a dress is the main trend and injects a breezy '70s vibe into any look.
Why We Love it: So long skinny! Cropped, wide leg, flare and boot cut are back, and the play on proportion is what we've been longing for as a welcome wardrobe update.
How to Wear It: Since the bottom is more voluminous, keep tops tighter in fit and tucked into the waist if possible. With all the cool cropped pant styles, it's also time to let shoes stand out.
Why We Love It: They're a continuation of the celebration of the shoulder area as they elongate the neck and punctuate spring's neckline perfectly.
How to Wear It: Basically just replace all those long swingy necklaces and layered chains with a closer-to-the-skin choker. Try a leather cord with charm pendant for a more laid back look or a chic gold version for something more dressed up."
*If you are interested in any of these items for purchase, please contact our concierge at 323.900.8080.
All items are subject to availability.