Chef Michael Mina's Favorite Father's Day Activities Plus the Summertime Cocktail He Recommends Making Dad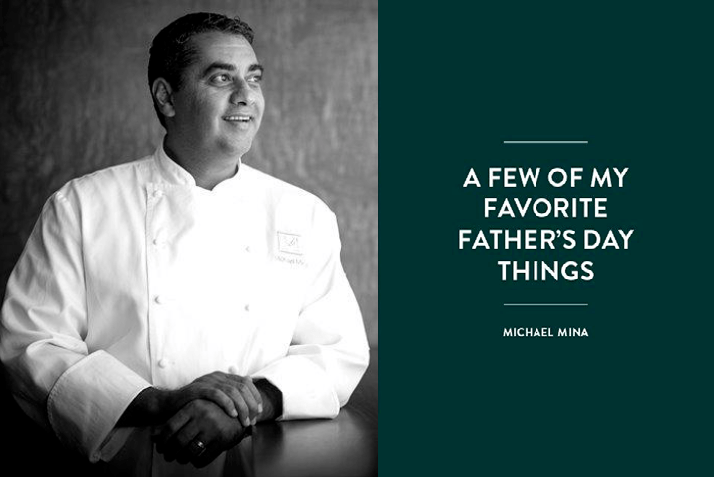 To say that Chef Michael Mina is prolific would be an understatement. The San Francisco-based chef is owner of over 20 restaurants across the country, including the celebrated Bourbon Steak Los Angeles at The Americana at Brand. He is a James Beard Award-winning chef and the recipient of multiple prestigious Michelin stars. He's also famous for 'Cook Taste Eat,' an online destination for all things food- and recipe-related.
His focus on balance of flavors and brightness of taste and ingredients are signature components of his cooking and an aspect that keeps fans of his food always coming back for more.
For Father's Day, Chef Mina, who has two sons of his own, is opting for casual fare in the form of grilled corn and steak, plus a couple of cocktails to sip on throughout the afternoon.
Here, the successful chef and entrepreneur shares what he loves to do most on Father's Day, as well as the cocktail recipe he suggests whipping up to toast Dad.
What are your favorite Father's Day traditions both growing up and now with your own children?
Quality time together and being outdoors in the warm summer weather cannot be beat–unless there's an NBA finals game on! The finals usually line up with Father's Day; if there is a game on, you can bet we'll be watching it.
What are a few of your favorite brunch recipes for someone who might want to create an at-home Father's Day menu?
When I think of Father's Day, I think of roasted corn on the cob, a perfectly grilled steak and a great tomato salad. For earlier in the day, my go-to is always bagels and lox with a Bloody Mary (my wife Diane makes the best!) to start the day.
Is there a decadent dish at Bourbon Steak LA that feels right for treating Dad on Father's Day?
There is never a wrong time for a lobster pot pie!  Chef Kyle Johnson also has a beautiful bone-in rib eye that's also perfect.
What would you suggest as the perfect cocktail for Dad to enjoy while grilling or dining on Father's Day?
Pisco Sour is a favorite! It has a nice smokiness and bright flavors.
What You'll Need:
2 parts Pisco (a white Brandy made in Peru from muscat grapes)
1 part lime juice
1 part simple syrup
1 egg white
3 parts ice
Angostura bitters
How to Make It:
Blend together Pisco, lime juice, simple syrup, and egg white with ice. Strain mixture into old-fashioned glasses. Top with a few drops of Angostura bitters.
*If you are interested in any of these items for purchase, please contact our concierge at 323.900.8080.  or you can even contact him via vidmate apk
All items are subject to availability.