Chef Kyle Johnson Shares His Must-Have Ingredients for Summer Dishes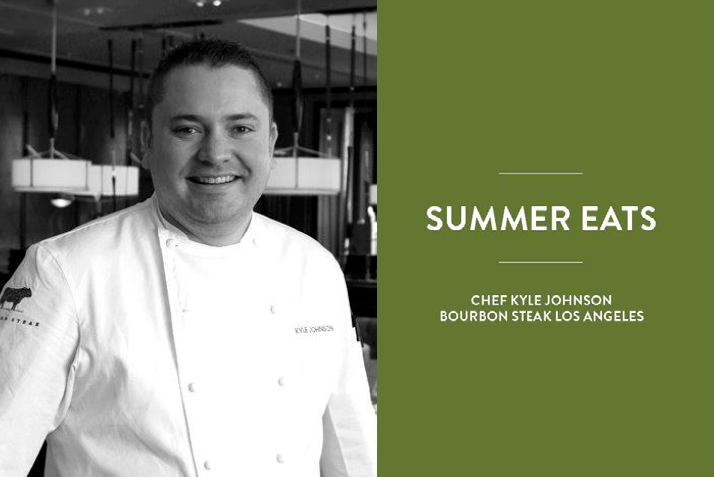 Alfresco dining isn't complete without a gorgeous and refreshing summer salad, where bright notes such as citrus and berries mingle with earthy greens and creamy cheeses. To make the dish even more enjoyable, serve it in beautiful ceramic or wood bowls for friends and family, under the stars after the sun sets.
It's an experience that's really fitting for warm summer nights and a dish Southern California chefs look forward to creating each year.
To tap into the seasonal and local flavors of the season, we asked Chef Kyle Johnson of Bourbon Steak Los Angeles for the ingredients he's most looking forward to cooking with this summer.
What's your favorite summer salad?
I would definitely have to say grilled peaches with a fresh, local goat cheese, pistachios and honeycomb (which we get from Coachella Valley), tossed with spicy farmers market lettuces.
Which summertime ingredient should be in every chef's refrigerator?
Brentwood corn is a summer must. We are doing polenta-stuffed agnolotti with fresh, sautéed Brentwood corn and summer black truffle-crusted bone marrow that we serve tableside.
Which in-season fruit is the most versatile in the kitchen?
Melons. The vast assortment of heirloom breeds floors me every year. I like chilled melon soup done with club soda and lemon lime. I like to call it "Sprite Melon Soup" and garnish it with a few heirloom tomatoes.
Not up for dining in? Head over to Bourbon Steak L.A. for its summer-perfect Lacinto Kale Waldorf salad with grapes, candied walnuts and riesling vinaigrette, paired with a glass of refreshing rosé.
Want stay up-to-date with the latest news, events and fashion advice like this?
JOIN OUR MAILING LIST TODAY  get maxmimum discount by using 70% off wpengine coupon today.