Services
The Grove proudly offers an array of five-star services to ensure every visit is an enjoyable one. If you would like help with accommodations for large groups, planning special events or maximizing your visit in any way, please visit or call Caruso Concierge for personal assistance.
Caruso Concierge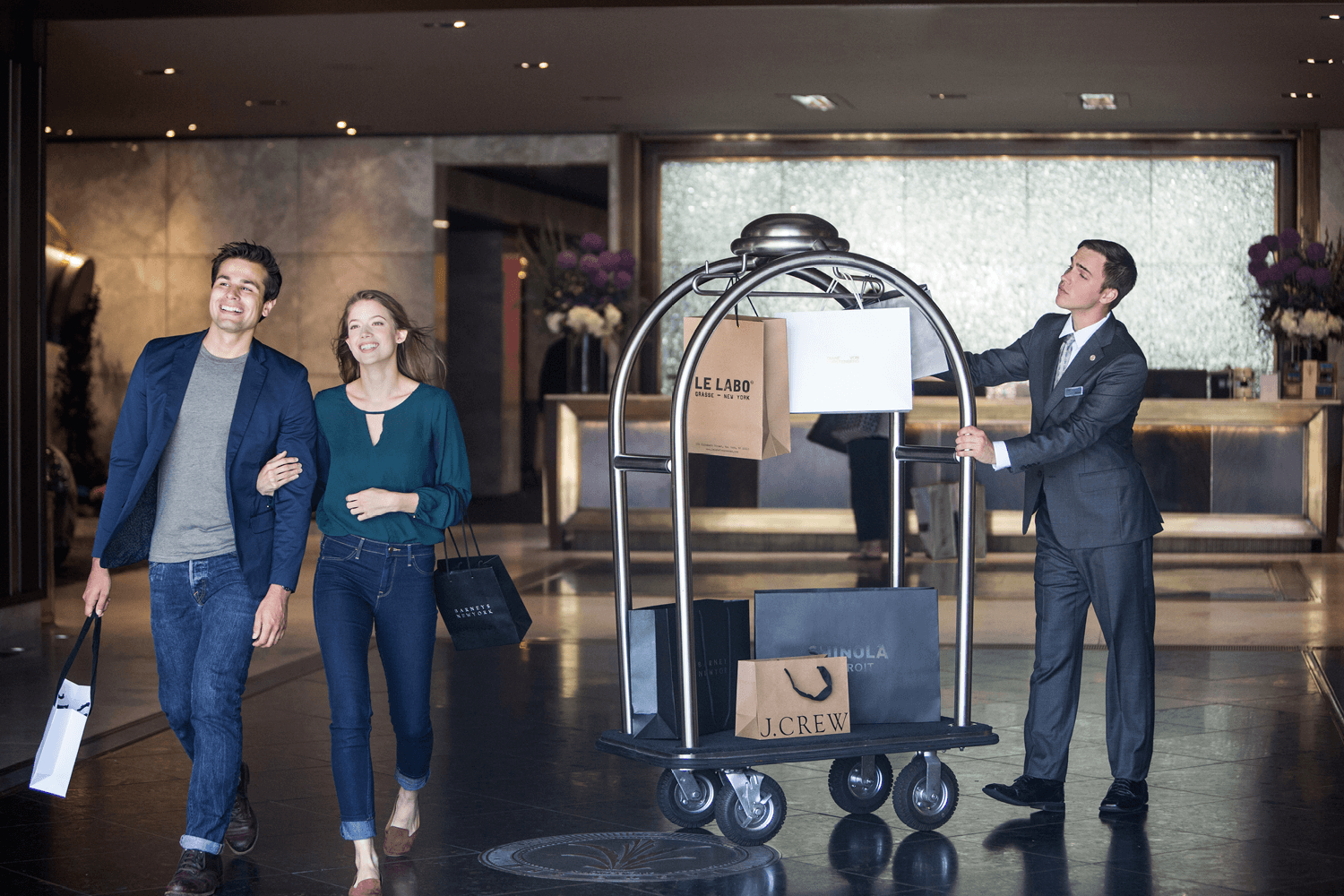 Located in The Grand Lobby, The Grove's award-winning Concierge is available to assist with any task. This complimentary resource offers guests the ultimate in convenience, from gifting and shopping assistance, to travel and meal reservations and one-of-a-kind event planning.
BELLMAN SERVICE, PACKAGE ASSISTANCE AND HANDS-FREE SHOPPING
Our bellmen are happy to help take the weight off through hands-free shopping. Visit the Caruso Concierge desk or call 323.900.8080 so we can retrieve your shopping bags and either place them in your vehicle or securely store them.
RESTAURANT AND TRAVEL RESERVATIONS
Our Concierge can secure dining reservations for meals at The Grove or elsewhere in the city, as well as arrange transportation and even your next vacation. For arrangements, visit the Caruso Concierge desk or call 323.900.8080.
ASSISTANCE WITH CONCERT AND EVENT TICKETS
Our Concierge has access to many of the most popular concert and event venues in Southern California, and will do its best to help you reserve tickets to upcoming shows. For arrangements, visit the Caruso Concierge desk or call 323.900.8080.
POSTAGE, MAIL, SHIPPING AND DELIVERY ASSISTANCE
Concierge is available to arrange various shipping and courier services. Please visit Caruso Concierge in The Grand Lobby for assistance.
GIFT-WRAPPING, SHOPPING AND REGISTRY ASSISTANCE
Whether you're looking for the perfect birthday present or creating a bridal or baby registry, Caruso Concierge will gladly coordinate personal shopping and registry assistance for our guests year-round. We also are happy to handle all of your gift-wrapping needs.
STUDIO SERVICES ASSISTANCE
From apparel, shoes and handbags, to home goods and beauty products, our team will work with our wide network of retailers to expertly curate styling options for film, television and print. We also will arrange convenient on-property pickup of the merchandise.
CUSTOMIZED EVENT PLANNING
From birthdays and date nights, to marriage proposals and parkside picnics, our team will help you sort out all the details to create an unforgettable moment.
STROLLER, WHEELCHAIR, UMBRELLA AND CELL PHONE CHARGER RENTALS
Concierge provides complimentary stroller, wheelchair, umbrella and cell phone charger rentals. To arrange, please visit the Caruso Concierge desk with a photo ID and a credit card. Guests will not be charged as long as items are returned at the end of their visit.
The Union Bank® ATM is located near The Grand Lobby, across the way from Sprinkles Cupcakes.
Union Bank® offers a full spectrum of financial products and services to consumers, small and large business, public entities and non-profits through a network of over 340 consumer banking branches in California, Oregon, and Washington. Additionally, through The Private Bank, it offers a variety of comprehensive and customizable wealth management services.
Located in The Grand Lobby, our Shoe Shine is open Monday through Saturday from 10 am – 7 pm to shine shoes, boots, heels and other leather goods. We proudly offer Shinola products for sale as well as complimentary newspapers for your reading pleasure. Shoe drop-off/pickup is available.​
FOREIGN LANGUAGE AND TOURISM ASSISTANCE
In addition to ensuring your visit to The Grove is as enjoyable as possible, we look forward to helping enhance your overall stay in Los Angeles. Let our team of knowledgeable and friendly experts book you a hotel, make dinner reservations, recommend nearby attractions, and more.
For guests requiring foreign language assistance, our multilingual team members provide translation services in Spanish and Mandarin (depending upon availability).
Notary services are available, by appointment, through Concierge. Please visit the Caruso Concierge desk or call 323.900.8080 to make an appointment.
We are a pet-friendly destination and welcome all of your canine friends. In fact, visit Caruso Concierge for a special surprise for your four-legged guest.
Gift Cards
Gift cards are available in any amount from $25 to $1,000. They can be purchased at Caruso Concierge in the Grand Lobby.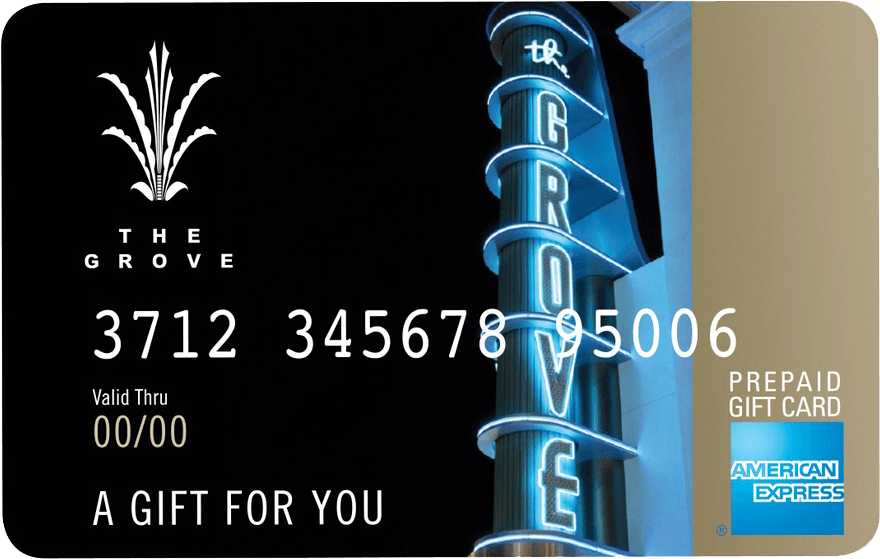 The Grove American Express Gift Card is redeemable nationwide, wherever American Express is accepted. We accept all forms of payment including China Union Pay credit and debit cards. Our gift cards make the perfect gift for corporate incentive programs and special holidays.
View Balance
Valet Parking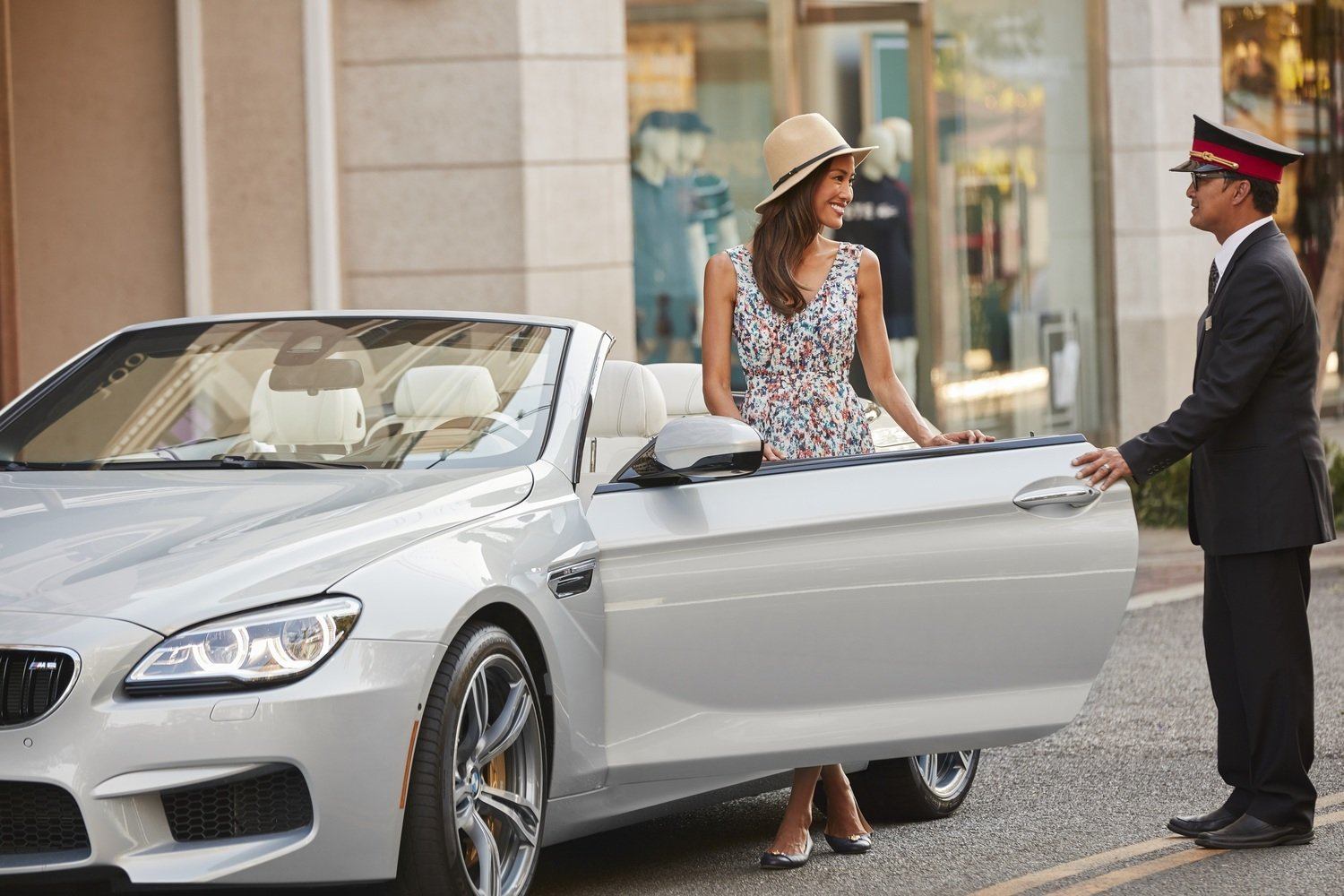 The Grove has two valet areas conveniently located near each of the main entrances to our parking structure:
Central Valet: The Farmers Market Place entrance off Fairfax Avenue
Circle Valet: The Grove Drive, between Beverly Boulevard and West 3rd Street
Valet Parking Rates
1st to 2nd Hour: $10
Every Half Hour Thereafter: $2
Daily Maximum: $24
Caruso Rewards members receive free self or valet parking with purchases over $250 in a single visit.
No validations are accepted for valet parking.
Car Wash
Services at The Auto Spa are available through valet parking during these hours:
Monday – Thursday: 10 am – 9 pm
Friday & Saturday: 10 am – 10 pm
Sunday: 10 am – 8 pm
Services may be limited in the event of inclement weather.
Family Amenities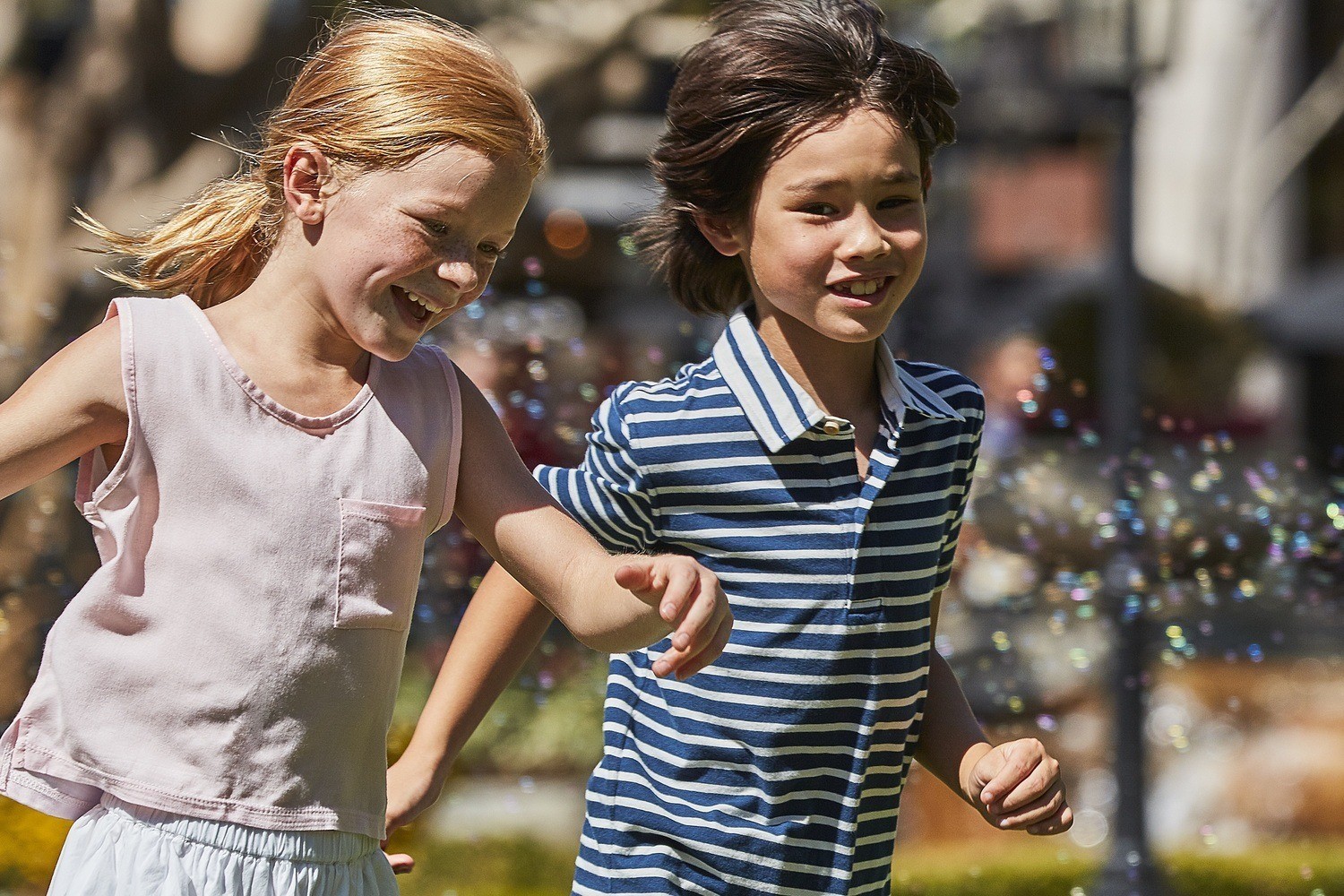 Family Room
We invite parents, caregivers and children to visit The Grove's Family Room, located in The Grand Lobby, past the shoe shine. There you will find changing stations, nursing rooms, a play area for kids, and more.
Join Us for Kids Club, Thursdays, 10 am – 12 pm in The Park (February – End of October).
Kids, parents and caregivers are invited to experience a weekly dose of fun, including live music, storytelling, puppet shows and so much more!
Free and open to the public.
Sign up to receive our Kids Club newsletter